Harvesting Palm Fruits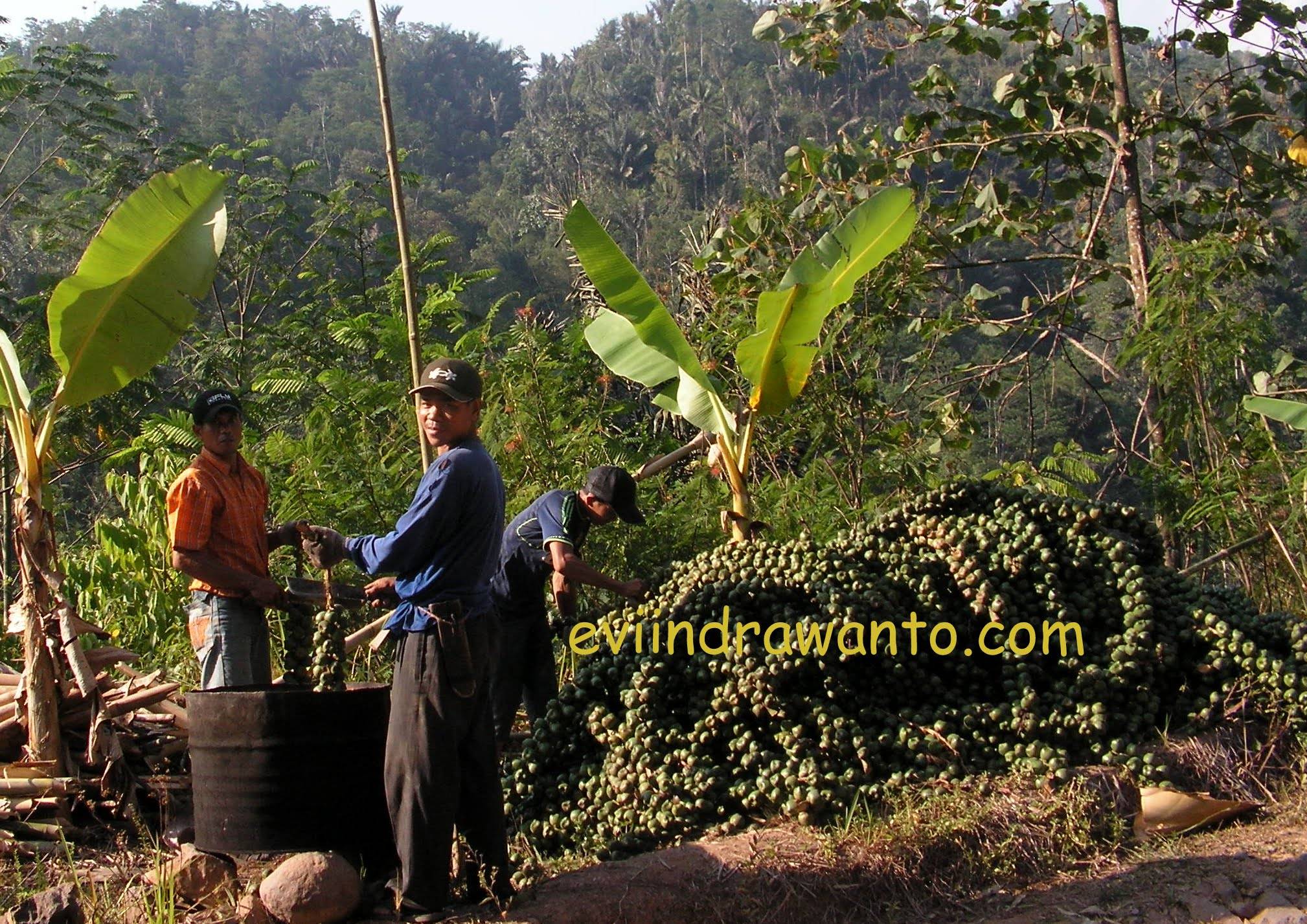 Harvesting Palm Fruits – Arenga pinnata, also known as the sugar palm or gomuti palm, is a type of palm tree that is native to Southeast Asia. Its fruit, commonly known as kalang-kaling, is a small, round fruit that is about the size of a grape. The fruit has a hard, fibrous outer shell that is green when young and turns brown as it matures. Inside the shell, there is a sweet, jelly-like pulp that is rich in sugars and is often used to make desserts and sweet snacks in Indonesia. 
Yes, the palm tree (Arenga pinnata) is not only taken its sap for  making arenga palm sugar, the fruit is also used as a food source. Indonesian people called this fruits Kolang-kaling or buah (fruit) ATEP. Mostly they are just used as a mixer in particular type of drink like es campur or es teller. These young fruit is also made of delicious compote and candied fruit.
High market demand for kolang-kaling are approaching Ramadan, the month of fasting. Mostly to make the compote, the most popular dishes for iftar (breakfasting).Farmers will go up a mountain or down the valley to determine which fruit is ready to harvest and which one should waiting for a few more months. For your information the palm tree that going to make Kolang-kaling is different with the tree for making Arenga Sugars.
The importance of Harvesting Palm Fruits and for the Indonesian Economy
Harvesting palm fruits, specifically kolang-kaling, is important for several reasons in Indonesia:
Economic Importance: The palm fruit industry provides a significant source of income and employment opportunities for many people in Indonesia, especially in rural areas where there may be limited economic opportunities. The production and sale of kolang-kaling and other palm fruits can provide a livelihood for many farmers and workers.
Culinary Tradition: Kolang-kaling has a long history in Indonesian cuisine and is used in many traditional dishes and desserts. It is an important ingredient that adds texture, flavor, and nutritional value to many Indonesian dishes.
Nutritional Value: Kolang-kaling is a rich source of fiber, vitamins, and minerals. It is low in calories and fat, making it a healthy addition to a balanced diet. It is also a good source of antioxidants, which can help to protect the body against disease.
Export Potential: Indonesia is one of the largest producers of palm fruits, including kolang-kaling, in the world. The export of these products can bring in valuable foreign exchange and contribute to the country's overall economic growth.
Overall, harvesting palm fruits such as kolang-kaling is important for both economic and cultural reasons in Indonesia. It is an industry that provides employment opportunities, supports traditional cuisine, and contributes to the country's overall economic growth.
There are several Indonesian desserts that use kolang-kaling or arenga palm fruits as their main ingredient. Here are some examples:
Es Kolang-Kaling: This is a popular Indonesian dessert made from kolang-kaling , which is a translucent jelly-like substance made from the fruits palm sugar. The kolang-kaling is mixed with shaved ice, sweetened condensed milk, and other toppings such as diced fruit or syrup.
Kolak: Kolak is a traditional Indonesian dessert made from a combination of sweet potatoes, bananas, and kolang-kaling that are cooked in coconut milk and palm sugar. It is usually served warm or at room temperature and is often enjoyed during Ramadan.
Es Campur: es is a popular Indonesian dessert that literally means "mixed ice" in English. It is a colorful and refreshing dessert that consists of a mix of palm fruits (kolang-kaling), shaved ice, sweetened condensed milk, and various toppings such as fruit, grass jelly, coconut, and beans.
Read also: